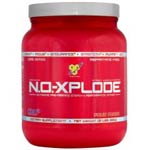 Before getting into a valuable resource to use when buying supplements, I want to preface the post with a warning. Very few

physique

-oriented supplements are, in fact, scientifically proven and able to live up to their claims. Therefore, it's important to research and analyze any potential supplement purchases before following through with them. Jumping on a great discount is ultimately a poor choice if you're left with an unneeded, useless product. 
 For example, NO products are a popular choice among today's bodybuilding enthusiasts. While such products do enhance the "pump" one experiences in a workout, they do nothing to improve that person's aesthetics or body composition. But I digress: I will eventually get into quality supplements and how to choose which one's to use, but I'll save that for a later date. I'll also be posting more "health hacks" on topics including weight training, diet, and fitness tricks.
Supplement stores and websites are aplenty in the times we live in. Still, some are better than others. One online store which goes largely unheard of is that of 
Whey Cheap
. Unlike most retailers, Whey Cheap offers just one product each day – at a massively discounted price. For example, today the site offered a container of 
Scivation 
Xtend
, discounted 63%, for just $12.99. Additionally, about two weeks ago, a 10lb container of 
Scivation 

Whey Protein
 ran for a mere $53.99.
There are two minor caveats in using Whey Cheap to consider. The posted supplements aren't always a bargain or even worth purchasing. Therefore, you should compare prices and determine if the product is indeed substantiated by science before acting. Also, there is a limit to the amount of a given supplement to sell each day. Therefore, be sure to check the site near each deal's post time (2 pm on the west coast everyday). Regardless of its flaws, the possibility of buying a quality supplement at an unusually low price makes worth the few seconds it takes to check Whey Cheap each day.

Post-Script: What do you want to learn about in regards to weight lifting, dieting (or gaining weight), and supplements?